Singapore is a land which encompasses numerous futuristic wonders and grand skyscrapers. Lit with colorful lights during the night, Singapore looks nothing less than a paradise waiting to be explored. This city features an array of impressive monuments, brand new shopping malls, exquisite venues for dining and luxury hotels, making it a haven for tourists. Amidst all this modernity, Singapore also has a lot of venues which feature natural beauty. From the local plazas to the lush gardens, Singapore has something for every kind of traveler. So, if you feel like going on a journey to explore this magnificent island-city, you must definitely book a Singapore tour package.
How to Reach Singapore
Once you have booked a Singapore tour package, the first question that pops in your mind is how to reach Singapore.
Singapore can be reached easily by flight through Singapore Airlines. This flight operates to and from all the major destinations of the world.
A major advantage of travelling to Singapore by road is that, you do not have to go through the hassle of the immigration and customs procedures. A licensed taxi can be rented from Johor Bahru's Larkin Bus Terminal to reach Singapore. You can even get a cab from Ban San St Taxi Kiosk.
There are two ways in which you can reach Singapore by train. One railway line runs from Johor Bahru and Kuala Lumpur to Malaysia with a small stop in Bangkok. You can even opt to travel in the luxurious Eastern and Oriental Express which runs from Malaysia and Thailand to Singapore.
Best Time to Travel to Singapore
While some days you would experience dry and sunny climate in Singapore, the others you would be surrounded with heavy downpour throughout the region. Although the weather in Singapore is unpredictable throughout the year, the months which fall in between February and April are the best time to book any of the Singapore packages. During these months, the days are generally warm and dry with minimum rains when compared to the other months of the year.
Suggested Read: Singapore: The Lion City
Best Places to Visit in Singapore
While booking any of the Singapore packages, make sure that their itinerary includes the following places.
1. Gardens by the Bay
This place receives the maximum amount of attention by every traveler in Singapore. As soon as you set foot at this place, it takes you into a magical wonderland making it the tourist hot-spot. Marina Bay looks the loveliest during the night since it features well-lit SuperTree groves all over. You can enjoy experiencing eye-popping sights when you visit Cloud Forest and Flower Dome which are the major attractions in this region.
2. Singapore Flyer
The best way to witness the magnificent sights encompassed by Singapore is by getting a bird-eye view of the entire city. This is made possible by the magnanimous Singapore Flyer. Singapore Flyer is an observatory wheel surging 165 m and known to be the largest wheel in Asia. Enchanting views of the sunset can also be enjoyed from here. This is one of the must visit attractions in Singapore when you are vacationing with your kids.
3. Changi Museum
Changi Museum features perfect depiction of how several people suffered during the World War II when the Chinese occupied the region. A beautiful story is narrated by this museum through the several photographs, drawings and letters which are put out for display. The museum constitutes a blend of five zones including a chapel and a gift shop. You can even opt to get an audio guided tour to understand the displayed artefacts better.
4. Botanic Gardens
Botanic Gardens is one of the serene tourist spots in Singapore which must be included in your Singapore honeymoon package. This place offers a refreshing environment filled with luscious greenery. Being recognized as a world's heritage site by UNESCO, Botanic Gardens in Singapore features stunning natural treasures with varied species of flora. The star attraction of this place is the Orchid flower which is Singapore's national flower. This garden also features spreads of lakes and waterbodies which are packed with swans and ducks.
5. Universal Studios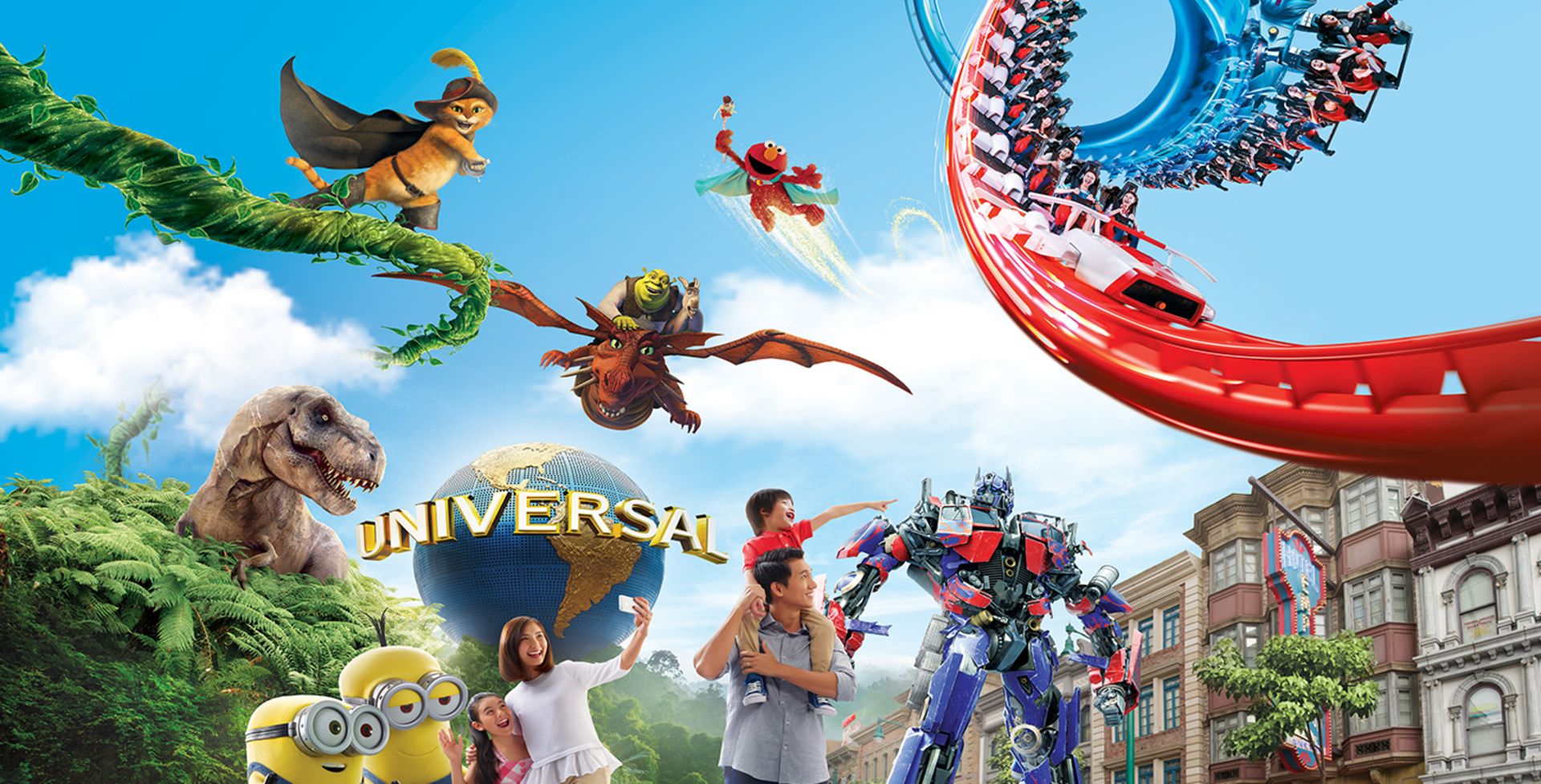 Universal Studios is situated in the stunning Sentosa Island of Singapore. This is undoubtedly one of the must-visit venues when travelling with family. Loaded with excitement, entertainment and enthusiasm, Universal Studios is perfect for enjoying a fun-filled day. Be sure to visit the Walk of Fame, hop on the Battlestar Galactica, and venture into several other exciting spots like Ancient Egypt Zone, Sci-Fi City, Lost World of Dinosaurs, etc.
6. Singapore Zoo
You can witness several endangered animal species dwelling inside Singapore Zoo's premise. This zoo houses more than 300 animal species which include Koalas, Giraffes, White Tigers and Zebras. Each section of this zoo features animals which are prevalent in a specific habitat. For instance, the Frozen Tundra zone features animals like raccoon dogs and polar bears. Similarly, in Fragile Forest you can find beetles, insects and flying foxes. This is a must-visit destination which must be included in the itinerary of your Singapore family package.
7. S.E.A Aquarium
S.E.A Aquarium is located on Sentosa Island and is a perfect tourist spot for both adults as well as kids and this is why a visit to this must be included in your Singapore family package itinerary. This aquarium is home to more than 100,000 species of marine animals. You can have a truly memorable experience exploring marine animals like sharks, stingrays, turtles, bottlenose dolphins and coral reefs. At the Dolphin Island, you can dive in and swim alongside varied sea animals including manta rays and stingrays.
8. Changi Beach
A trip to Changi Beach is a must when exploring Singapore through a Singapore honeymoon package. The beach park housed here is one of Singapore's oldest coastal parks. Plan a trip here on a sunny day and you will definitely not be disappointed by this place. Enjoy a stroll along the sandy beach, luxuriate under the sun sipping on a refreshing drink, witness the remarkable sunset view from the beach-side and do so much more on your trip to Changi Beach.
Best Places to Eat in Singapore
Singapore is known to house an array of incredible restaurants which must be visited by every food enthusiast on a Singapore tour. Some of the best restaurants out of these are mentioned below.
1. Waku Ghin
This iconic restaurant is located in Marina Bay Sands and ever since its introduction has received rave reviews from several satisfied diners. It boasts several wondrous food creations curated from fresh and natural ingredients from Singapore and beyond. The average price of a meal here costs around $380, which may seem a tad bit expensive but once you taste a spoonful of the dishes offered here, you'll feel it's worth every penny spent.
2. Candlenut
You must definitely visit Candlenut restaurant on your Singapore tour to enjoy the delicious Singaporean cuisine dishes. Malcom Lee is the in-house Singaporean chef at Candlenut who understands the culinary heritage of the region and carefully blends the ingredients accordingly to produce some of the best-tasting dishes. The popular dishes from the Chinese cuisine which must be tried out here includes Yeye Curry, Bakwan Kepiting and Buah Keluak. Be sure to save room for the delectable sweet dishes offered here.
3. Imperial Treasure Super Peking Duck
As the name of the restaurant suggests, the Peking Duck dish is the star dish featured exclusively by this restaurant. It is wonderfully lacquered and the paper-thin duck skin is offered first with a bowl full of sugar syrup for dipping. Next, the delicious slices of duck breasts are served with noodles, selected vegetables and a flavor-rich broth. It is recommended that you make your bookings at this restaurant in advance since it is swamped year-round with tourists who are on a Singapore trip.
4. Bam!
Be it over the sous vide or plancha, the food dishes served here deftly blends the western techniques with the Japanese produce. The food menu at this restaurant is different everyday and each of the dishes served encompass complex yet bright flavors. The must-try dishes of this restaurant includes the somen which is served chilled with balanced dashi alongside grapes and slivered almonds, cod maw which is fried and served dipped in an artichoke emulsion with black truffles.
5. 328 Katong Laksa
This is a well-known restaurant in Singapore which serves highly delectable dishes and must not be missed by any visitor who are on a Singapore trip. The star dishes of this restaurant include the Spiced Laksa Noodles which is served with a creamy coconut gravy and cut into tiny pieces, Chunky Fish Otah which is created with the freshly acquired mackerel and served in a banana leaf. The blast of satisfying flavors of the food dishes served here lingers in your mouth for a long time.
6. Hajah Maimunah
At Hajah Maimunah, you can find an array of around 30 different dishes which exhibit the rich flavors from Indonesia and Malaysia. The Spoon-Tender Beef Rendang which is braised beef with a blend of lemongrass, onions and chiles, Sayur Lodeh which is carrots, cabbage, and green beans in a stew of coconut gravy and Spicy Grilled Chicken, are the crowd-favorites. All these dishes are best enjoyed with a cup of steamed rice.
7. Iggy's
Iggy's is a wonderful restaurant located at the Hilton Hotel and features unique flavor blends created using seasonal ingredients of the region. Since being opened in 2004, it has earned the award for being the "Best Restaurant" in Singapore several times. Fresh and light modern cuisine dishes with lip-smacking Japanese flavors are offered here. It includes two private dining rooms, a walk-in cellar, and a show kitchen in its premises.
8. Meta
The in-house chef here, Chef Sun Kim is extremely skilled at producing modern European style dishes which is elegant and light. These dishes carry a pronounced flavor of Korean ingredients which makes them unique in taste. The menu at this place keeps changing almost every day but there are a few signature dishes like Korean Beef Bulgogi and Beef Tartare Riff, which you can taste on any given day. They also serve several pricey wines which can be enjoyed with the flavorsome dishes served here. You can even sit at the front of the bar to witness live cooking and interact with the chefs in the open kitchen.
Suggested Read: Thoroughly All understand Singapore: Frequently Asked Questions From Our Travelers
Best Places to Shop in Singapore
No vacation is complete without going on a shopping spree. Here are the best places to shop in Singapore which must be included in any of the Singapore holiday packages which you choose.
1. Orchard Road
Orchard Road encapsulates a 2.2 km stretch of giant megamalls. This is undoubtedly the most undisputed hub for shopping in Singapore which features pristine complexes like Paragon House and ION Orchard. You can find every designer brand outlet you have ever come across over here. The other avenues like the Lucky Plaza and Far East Asia are extremely popular among bargain hunters. After a tiring day of shopping, you can head to any of the highly-acclaimed restaurants and bars for a refreshing experience.
2. Chinatown Street Market
Chinatown is one such place in Singapore where any visitor can spend days exploring its offerings. Chinatown Street Market stretches across Terengganu, Pagoda, and Sago streets. Every night, a never-ending list of stores open up at this street and feature several artifacts, traditional candles, jewelry, clothing options and much more for sale. You can even try out the delicious street eateries to relish on Singaporean delicacies.
3. VivoCity
VivoCity is one such mall in Singapore that would be recommended by every visitor who has ever vacationed in Singapore. It is the largest mall in Singapore which features an array of stores offering almost everything that a shopper may desire. True to its tag of being the lifestyle center of Singapore, VivoCity boasts numerous high-fashion stores and designer outlets, an amphitheater at the rooftop, about 15 movie screens, an intriguing art gallery, an open-air playing area and a plethora of bars, cafes, and restaurants.
4. Haji Lane
Singapore is known to house a multitude of malls featuring luxury brand products. If you prefer shopping on a budget, head to Haji Lane which is the hipster-haven of Singapore. This is an incredibly narrow lane which is decked with vintage boutique stores featuring trendy clothing options. This lane can be instantly recognized as the walls here feature stunning wall art which is truly a treat to the eyes. Apart from shopping stores, this lane also features several drinking joints which are great for partying with friends.
5. The Shoppes
Shoppes is a part of the iconic complex of Marina Bay Sands. This luxury complex is worth visiting for all those shoppers who do not mind spending hefty amounts for luxury products. With giant windows of glass, a water feature at the center and the vast atriums, offer a pleasing shopping experience in this arena. After browsing through the products offered at the many designer brand stores, be sure to visit the 57th story to enjoy an undisturbed birds-eye view of Singapore.
6. Little India
Often misjudged to encompass only malls and skyscrapers, Little India is an exotic place that offers numerous opportunities for shopping enthusiasts. Take a stroll along the Serangoon Road and you can find plenty of cloth stores offering ready outfits for the buyers. The clothing options offered here are known to be of the cheapest value. Here, you can find traditional fabrics, packed-out electronics, dresses and so much more.
7. Clarke Quay
Clarke Quay has a varied range of fashion outlets and boutique stores that can be ventured into for a truly rewarding shopping experience. Clarke Quay also boasts its fair share of high-fashion malls which can be explored for shopping opportunities. Some of these malls include Riverside Point, Clarke Quay Central, and Great World City. Apart from this, Clarke Quay is one of the vibrant avenues in Singapore which can be enjoyed by taking a relaxing stroll.
8. Mustafa Center
Mustafa Center is a well-known shopping arena in Singapore which is located at the heart of Little India. Here, you can get almost anything you need at a cheap rate. The products offered here are not 100% original and are not even durable, but if you are looking to shop for luxury products at a cheap rate, this is the most ideal place for it. The best part about this mall is that it is open 24 hours for shoppers and visitors.
Through this travel guide, you will get all the necessary information which you would be looking for while planning a memorable vacation in Singapore through any of the Singapore holiday packages. There are so many places to visit and things to do in this city, which makes it one of the most interesting places for a vacation. Venture into this ultra-modern city with either your friends or family and get a chance to experience one of the best vacations ever.
GARDENS BY THE BAY
The most beautiful man made garden which will attract you towards it. The beautiful trees which are symbol of Gardens by Bay are called super trees
Suggested Read: What To Do In Singapore – A 4 Day Singapore Itinerary
Singapore Visa Country : Singapore Visa Category : Tourist Nationality : Indian
Visa Notes
Passport: Original Passport with the validity of minimum six months and minimum one blank page required.
1. Passport: Original Passport with the validity of minimum six months and minimum.
2. Personal Bank statement for last 6 months Minimum 60000 BALANCE
3. Letter Head Company incorporation registration copy, GST registration copy.
Employed if Own Business
4. NOC from the company on its letter head and 3 months salary slips along with employee ID card copy if Working
5. Airline Reservation + Hotel voucher Confirmed Air Ticket
Contact us @..…………. for a customized itinerary for a Singapore holiday.
Please follow and like us: