Dubai is one of the most frequented tourist destinations in the world. Being home to a multitude of world-class attractions, Dubai is now known as a global entertainment hub. Dubai has exhibited remarkable infrastructural growth over the last few decades. However, the city of dreams has a lot more to offer than just high-rise buildings and luxury resorts. In fact, indulging in certain fun-filled activities can make up for a memorable Dubai tour. And that is why you should only opt for Dubai holiday packages that promise a unique travel experience. Here, we have prepared a list of 10 unique things that you can do on your Dubai trip to revive your soul in an instant.
1. Try flyboarding in Dubai
There is no doubt that Dubai is full of adventures for those who love to explore. If you are fervent about outdoor activities and watersports, you must try flyboarding in Dubai. Flyboarding is indeed a unique activity that cannot be done just anywhere. Since you are in Dubai, go flyboarding to ascend over the Persian Gulf.
2. Visit the Miracle Garden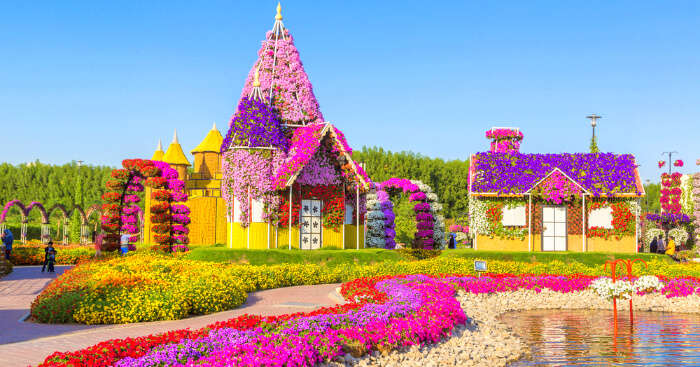 The Dubai Miracle Garden is known for its natural beauty and grandeur. The world's largest flower garden which is home to millions of different types of species of flowers is a real feast for the eyes. If you're vacationing with your loved one, you must pay a visit to the Miracle Garden to experience romance at its best. Having said that, make sure that the Dubai honeymoon package you opt for features a visit to the glorious Miracle Garden.
Suggested Read: How to Enjoy a Vacation in Dubai On a Budget
3. Take part in the Dubai shopping festival
Each year, millions of tourists from around the world are attracted to the Dubai Shopping Festival which lasts for almost a month. The festival features the best brands which showcase their best deals. All types of products, from clothing accessories to electronic items are put on display for sale. Lotteries are held as a part of the festival and people win hefty cash prizes every day. So, do take part in the Dubai shopping festival for a delightful travel experience.
4. Go on a desert safari
One cannot deny that there is nothing more thrilling than going on a desert safari in Dubai. A four-wheel drive will take you to the luxurious campsite where you can enjoy traditional dance performances, delectable cuisines, etc. So, make sure that you indulge in a desert safari experience to make the most of your Dubai trip.
5. Visit the biggest mall in the world
The biggest mall in the world is situated in Dubai and it is definitely worth paying a visit. Along with hundreds of restaurants and cafes, the mall has more than 1200 shopping outlets. The Dubai mall also comprises an underwater zoo and aquarium to complement the overall experience of visitors.
Suggested Read: 5 Amusement Parks in Dubai You Cannot Miss
6. Go to the top of Burj Khalifa
Since you are traveling to Dubai, the most unique and exciting thing to do would be to go to the top of Burj Khalifa – the world's tallest building. Standing tall at a height of 828 meters, the Burj Khalifa offers a spectacular view of the world. Nonetheless, buy a VIP ticket if you don't want to wait in the long queues.
7. Stay at the iconic Burj Al Arab
A Dubai tour remains incomplete without paying a visit to the iconic Burj Al Arab. The only luxurious seven-star hotel in the world has everything to offer from a delightful ambiance to appetizing meals. Furthermore, the captivating design of the Burj Al Arab has become a quintessential example of Dubai's innovative infrastructural development.
8. Skydive in Dubai
If you are a thrill-seeking individual who is always looking for a quick adrenaline rush, you should definitely give skydiving a try on your next Dubai tour. You can skydive over the tree-shaped Palm Jumeirah island for an eye-catching aerial view. It is really going to be a one-of-a-kind experience. Nevertheless, if you are new to skydiving, the professional instructors will help you out.
9. Devour the toothsome delicacies of Dubai
In addition to its world-famous tourist attractions, Dubai is also known for its delectable food variety. In fact, Dubai is considered a gourmet's paradise. Since only a small percentage of locals inhabits the city, the majority of the population is of expats who come from different parts of the world. Therefore, you will find a blend of diverse cuisines in Dubai which will make up for a mouth-watering experience.
Suggested Read: Next Destination to the City of Gold- DUBAI!
10. Enjoy the water fountain show
If you're truly into seeking a unique and fun-filled experience in Dubai, you cannot afford to miss the water fountain show of Dubai at any cost. All you have to do is to visit the Dubai Mall to enjoy the fascinating water fountain show. The best part about Dubai's water fountain show is that it's completely free and you won't have to spend a single buck for witnessing the same.
Suggested Read: Why are visit Dubai ? 8 Reasons Go to Dubai
The unique and diverse culture of Dubai adds to the overall charm of the city. Ensure that you indulge in at least some of the above-mentioned activities to make your upcoming Dubai Trip worth remembering. Moreover, you can contact us for more information on customized Dubai holiday packages. Nonetheless, if you're traveling to the city with your other half, consider opting for a well-priced Dubai honeymoon packages to plan your vacation in the best way possible.
Please follow and like us: